Leonardo da Vinci
Leonardo was born in Vinci on 15th April 1452.
In 1469 his family moved to Florence and he was apprenticed in the workshop of Verrocchio, where he trained for eight years and learnt drawing techniques, use of perspective and anatomy.
His training can clearly be seen in the angel he painted for Verrocchio's Baptism of Christ (the angel is skilfully drawn and is a very balanced figure) and in one of his
first works, the Annunciation of Monteoliveto (Uffizi Gallery in Florence), painted between 1475 and 1478. The colours of this picture are truly extraordinary and great attention is given to details, especially those of the landscape.
Leonardo was a very talented drawer and the drawings started in about 1482, St Jerome and the Adoration of the Magi, clearly show his talent (neither picture was ever finished).
The latter drawing (never finished because the artist left for Milan) the subject is represented in a new way: the Virgin with Child is surrounded by an excited crowd; people are moving and waving and are clearly very excited about the holy event.
The artist was in Florence when he painted the Portrait of Ginevra Benci; the outlines of the lady's face are delicate chiaroscuro effects and the background landscape is made up of plants and water.
Other important works are Madonna of the carnation and Madonna Benois.
Leonardo moved to Milan in 1482 and lived there for sixteen years at the service of Ludovico il Moro. He studied arts and science but his main activity was painting. Some of his most important works date to this period. One of them is the famous Virgin of the Rocks. The human figures are surrounded by rocks and boulders and light barely manages to get through. The atmosphere, which is almost unreal, is amazing and is achieved through a special technique of chiaroscuro (colours are shaded) which is one of the unique elements of the artist's style.
He painted many other pictures, including Lady with an Ermine (Krakow) andPortrait of a Lady (Louvre). The masterpiece of his years in Milan is The Last Supper, painted between 1495 and 1497, in the refectory of the convent of Santa Maria delle Grazie. The subject is depicted in an innovative way, in the moment Christ declares he will be betrayed. In his treatise on painting, Leonardo wrote: "there are two things a good painter must paint, man and the idea in his mind; the first is easy, the second is difficult because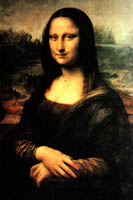 movement and limbs must be drawn". In the Cenacolo Leonardo brought this idea to life, making Christ the pivot of the composition, surrounded by the Apostles in different postures which reveal their thoughts and feelings.
In 1499 Ludovico il Moro fled from Milan because the French had invaded the duchy. Leonardo began travelling and went to Mantua, Venice, and finally returned to Florence. He received a commission for a fresco in a hall of Palazzo Vecchio. The picture was to show the battle of Anghiari. Leonardo competed with Michelangelo who was painting the battle of Cascina on the wall opposite. The painting unfortunately did not survive.
In those years he also started painting the famous Mona Lisa. He was very attached to the picture and took it with him to France (it is currently in the Louvre). It is the portrait of a Florentine lady, Monna Lisa di Giocondo. The painting is a half length portrait and the sitter's face is almost completely turned towards the observer. The background is a rocky landscape with two small lakes at different heights. The moving atmosphere and the melancholy stemming from the sitter and the landscape is increased by Leonardo's 'sfumato' technique.
In 1506 the artist moved to Milan. In the last years of his life he lived mainly in this city but frequently returned to Florence. His last works are St John the Baptist and Saint Anne with Madonna and Child. He had already drawn a cartoon of this picture in 1501. The people are arranged in a pyramid shaped composition, Saint Anne's face is the apex and the landscape in the background is rocky.
In 1516 he accepted the invitation of the king of France to go to Amboise, where he lived for the last years of his life. He died in 1519.